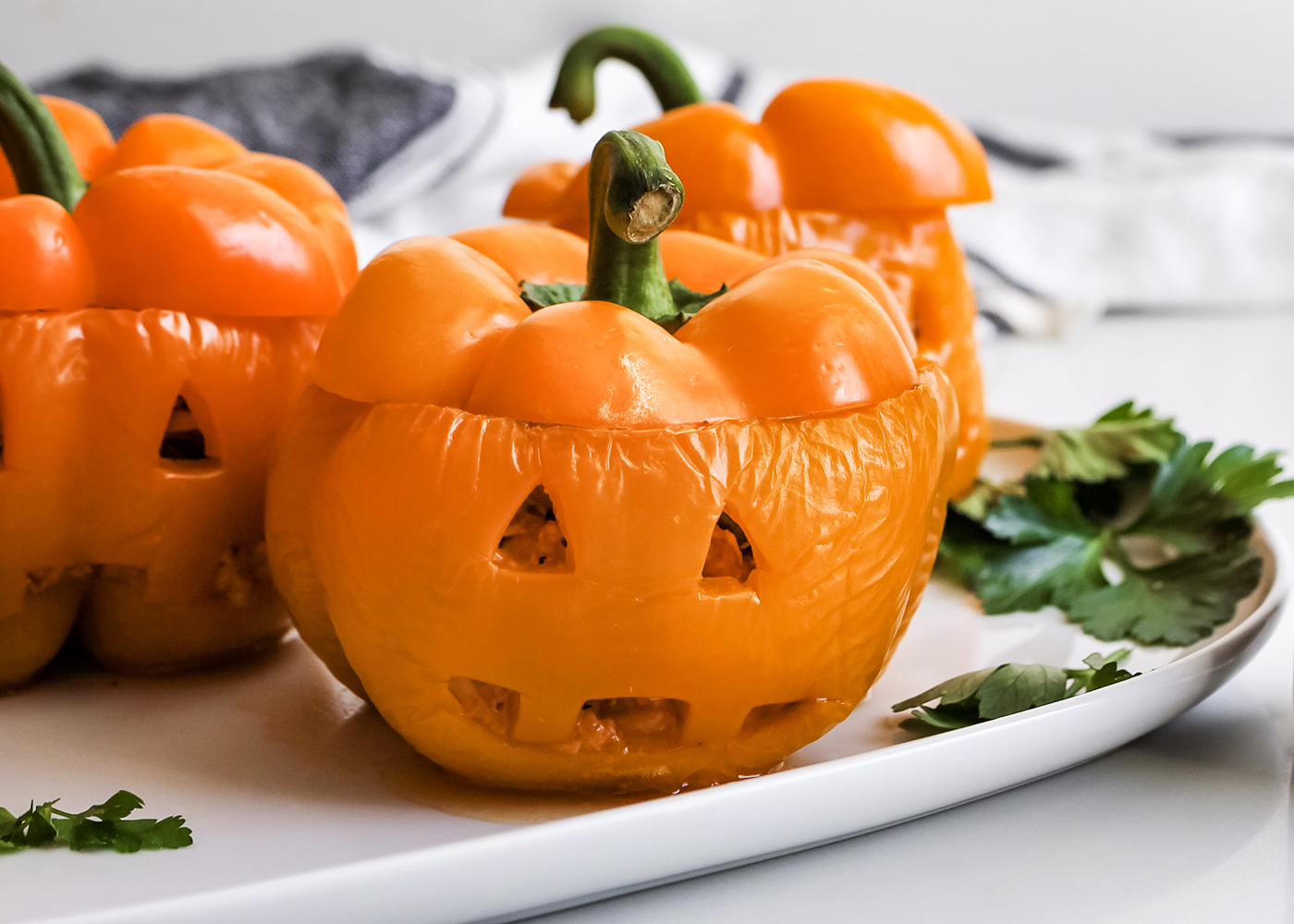 Jack-O'-Lantern Stuffed Bell Peppers
| | |
| --- | --- |
| Prep Time: 15 min | Cook Time: 40 min |
| Servings: 4 | Skill Level: medium |
Bell peppers carved into jack-o'-lanterns and stuffed with chicken, rice, sun-dried tomatoes, cheese, tomato sauce, spices and Pearls Specialties Pitted Greek Olives to make this dish sing. It's a festive fall dinner experience that the whole family will love.
Ingredients
1 cup chopped Pearls Specialties Pitted Medley Greek Olives
4 large orange bell peppers
11⁄2 cups shredded chicken
11⁄2 cups cooked white long-grain rice
1⁄4 cup sun-dried tomatoes, chopped
11⁄2 cups mozzarella cheese, shredded
1⁄4 cup Parmesan cheese
1 (8-oz) can tomato sauce
1⁄2 teaspoon garlic powder
1 teaspoon Italian seasoning
1 teaspoon kosher salt
1⁄2 teaspoon fresh cracked black pepper
Cooking Instructions
Preheat the oven to 400F. Line a baking sheet with parchment paper.
Cut off the stem ends of the bell peppers and remove the seeds. Set aside the stem ends.
Using a sharp knife, cut out a jack-o'-lantern face on each of the bell peppers.
Place onto the baking sheet and bake for 15 minutes.
In a bowl, combine shredded chicken, rice, sun dried tomatoes, 1 cup mozzarella, parmesan, tomato sauce, garlic powder, Italian seasoning, salt, pepper, and the real star of the show, Pearls Specialties Pitted Greek Olives.
Stuff the peppers with the chicken and rice mixture and assemble into a baking dish. Top with remaining mozzarella.
Place back onto the oven and bake for 25 minutes.
Place the stems back on top and serve.