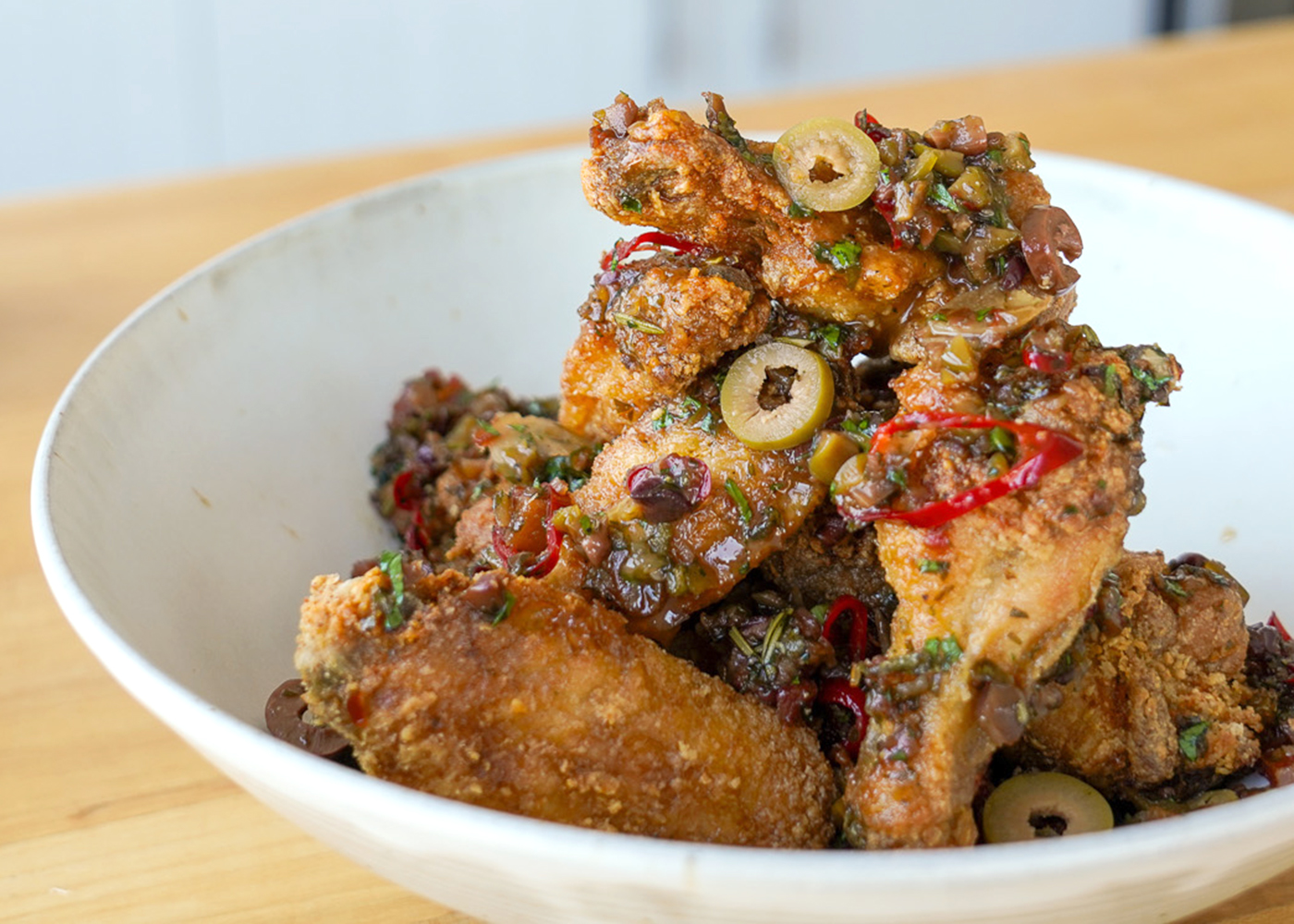 Chicken Scarpinello Wings
| | |
| --- | --- |
| Prep Time: 30 min | Cook Time: 20 min |
| Servings: 4 | Skill Level: medium |
The classic version is a New York Italian dish of braised chicken thighs with Italian sausage, and a rich buttery sauce of hot peppers and parsley but it makes for a killer wing sauce. Rather than white wine, used the brine from Specialties Pitted Medley olives. Marinated in a blend of herbs they end up saving you the hassle of having to add anything else to the sauce.
Recipe and image attributed by Chef Joe Sasto
Ingredients
Chicken Wings:
2 pounds (approx. 1 kg) chicken wings, separated into drumettes and flats
2 cups corn starch
1 teaspoon paprika
1 teaspoon garlic powder
1 teaspoon onion powder
Salt and black pepper to taste
Vegetable oil for frying
Scarpinello Sauce:
1/2 cup unsalted butter
1/4lbs pancetta, diced
6 cloves garlic, minced
1/4 cup long hot peppers, sliced (adjust for heat preference)
1/4 cup shallot, minced
1 jar Pearls Specialties Pitted Medley Olives + brine
Juice of 1 lemon
2 tablespoons fresh parsley, chopped
3tb sugar (adjust for taste)
Salt and black pepper to taste
Cooking Instructions
Marinate the Chicken Wings:
Place the chicken wings in a large bowl and toss with seasonings over Ensure all wings are coated. Cover the bowl with plastic wrap and set aside while preparing the sauce.
Dredge and Fry the Chicken:
Heat about 3 inches of vegetable oil in a deep, heavy-bottomed pot or deep fryer to 325°F
Carefully place the coated chicken wings into the hot oil, working in batches to avoid overcrowding the pot.
Fry the wings for about 5-6 minutes or until they are light brown and cooked through, Remove them using a slotted spoon and place them on a paper towel-lined plate to drain any excess oil.
Increase the oil temperature to 375F and fry a the wings a second time for 3-4 minutes until golden brown and crispy.
Make the Scarpinello Sauce:
In a large skillet, heat a small amount of olive oil over medium heat and slowly cook the pancetta until crispy.
Add the minced garlic, hot peppers, and sliced garlic. Sauté for about 2-3 minutes until fragrant and slightly softened.
Deglaze with the brine from the olive jar.
Add the chopped olives, and sugar to taste.
Continue cooking the sauce down until glazed and thickened.
Stir in the butter over medium heat, until emulsified.
Season the sauce with salt, lemon juice, and black pepper to taste.
Stir in the chopped fresh parsley, and remove the sauce from heat.