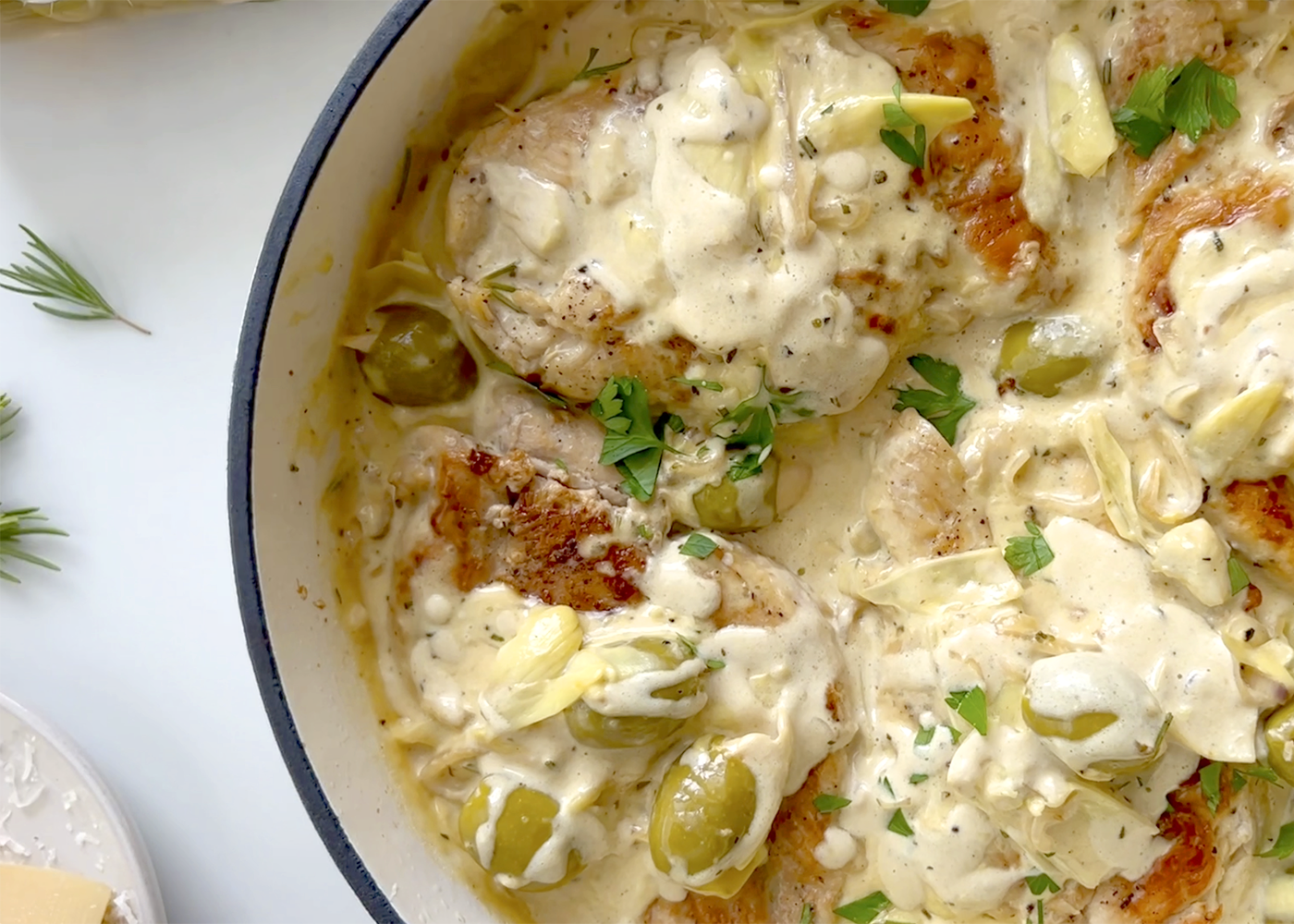 Creamy Artichoke & Olive Chicken
| | |
| --- | --- |
| Prep Time: 30 min | Cook Time: 15 min |
| Servings: 4 | Skill Level: easy |
This Creamy Artichoke & Olive Chicken has perfectly seared, tender chicken breasts that are smothered in a rich, creamy artichoke and olive sauce. The gourmet olives in this dish are handpicked from the Mediterranean and stuffed with garlic, they bring on bold flavors and pair exceptionally with chicken and artichokes.
Ingredients
1 (7 oz) jar Pearls Specialties Garlic Stuffed Olives, drained
4 boneless, skinless chicken breasts, pounded to even thickness
11⁄2 tsp salt, divided
1 tsp pepper, divided
2 tbsp olive oil
4 tbsp butter, unsalted
2 shallots, sliced
3 cloves garlic, minced
1 tbsp rosemary, minced
1 tsp Italian seasoning
2 cups heavy cream
1⁄2 cup grated Parmesan
1 (14 oz) artichoke hearts in water, drained and quartered
2 tbsp fresh parsley, chopped
Cooking Instructions
Season chicken with 1 tsp salt & 1⁄2 tsp pepper.
Heat olive oil in a large pan over med. heat. Add chicken to the pan and cook 6-8 mins. per side, until internal temperature reaches 165F. Transfer to a plate.
Melt butter in the same pan. Add shallots, garlic, rosemary, and Italian seasoning. Sauté for 3-4 mins., until shallots are soft.
Add heavy cream. Bring to a gentle simmer. Stir in parmesan, 1⁄2 tsp salt, 1⁄2 tsp pepper, artichokes, and olives.
Return chicken back to the pan and spoon the sauce over the chicken. Garnish with parsley and serve.