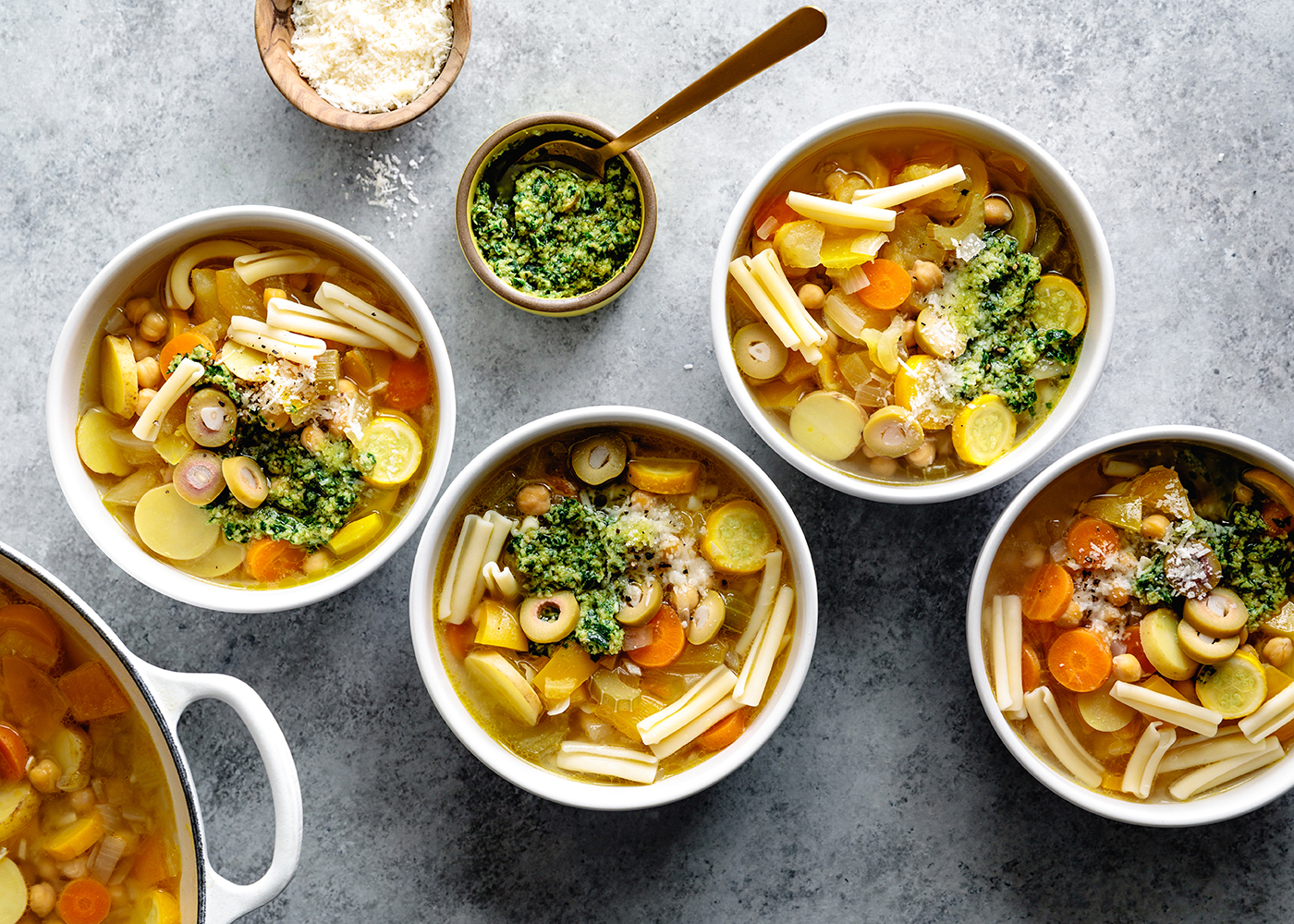 Vegetarian Minestrone
| | |
| --- | --- |
| Prep Time: 30 min | Cook Time: 20 min |
| Servings: 8 | Skill Level: easy |
A kicky garlic olive and herb pesto adds vibrant flair to this colorful vegetarian minestrone.
Ingredients
For the Minestrone:
2 tablespoons extra-virgin olive oil, plus more for drizzling
1 large yellow onion, diced
4 large garlic cloves
1 medium carrot, scrubbed and sliced into 1/4-inch thick rounds
1 large yellow or orange bell pepper, seeded and cut into large dice
1 large celery stalk, thinly sliced
1/2 pound yellow fingerling potatoes, sliced 1/2-inch thick
2 (13-ounce / 385 ml) jars or cans cooked chickpeas, drained (about 2 1/2 cups)
4 large yellow or red tomatoes, seeded and diced, juices reserved
8 cups water
2 vegetable bouillon cubes
A few sprigs basil or parsley
1 or 2 parmesan rinds, about 2 inches square each
2 medium yellow or green zucchini, cut into ¼-inch thick rounds
Fine sea salt and freshly ground pepper, to taste
8-10 ounces (280 g) dry shells, macaroni, or other small pasta, cooked until al dente and tossed
with olive oil
Shaved parmesan, for serving
Green Olive Parsley Pesto, for serving (below) and sliced olives
For the Green Olive Parsley Pesto:
1 cup packed parsley leaves
1 garlic clove, peeled and put through a press
1/4 cup packed grated parmesan
6 tablespoons extra-virgin olive oil
1 tablespoons lemon juice
1/2 cup Pearls Specialties Garlic Stuffed Queen Olives
Salt if needed, to taste
Cooking Instructions
For the Minestrone:
In a large soup pot, heat the oil over medium-high heat.
Add the onion, garlic, carrot, bell pepper, and celery, and cook, stirring occasionally, until tender and fragrant, 10 minutes.
Add the potatoes, tomatoes with their juices, chickpeas, water, bouillon herbs, and parmesan rinds.
Bring to a boil, then reduce to a simmer and cook until the potatoes are nearly tender, 10-15 minutes.
Add the zucchini and cook until firm, but tender, 3-5 more minutes.
Taste, adding salt and pepper if you feel the soup needs it.
Remove and discard the herb sprigs and parmesan rinds.
Divide the pasta among shallow bowls, ladle in some soup, and serve with green olive parsley pesto (below), shaved parmesan, and more black pepper, with crusty bread on the side. The soup and pasta can be stored separately, refrigerated airtight, for up to 4 days.
For the Green Olive Parsley Pesto:
Place the parsley, garlic, parmesan, and olives, olive oil, and lemon juice in the bowl of a food processor and pulse until a loose paste forms.
Taste, adding salt if you feel the pesto needs it. Store refrigerated airtight for up to 1 week.