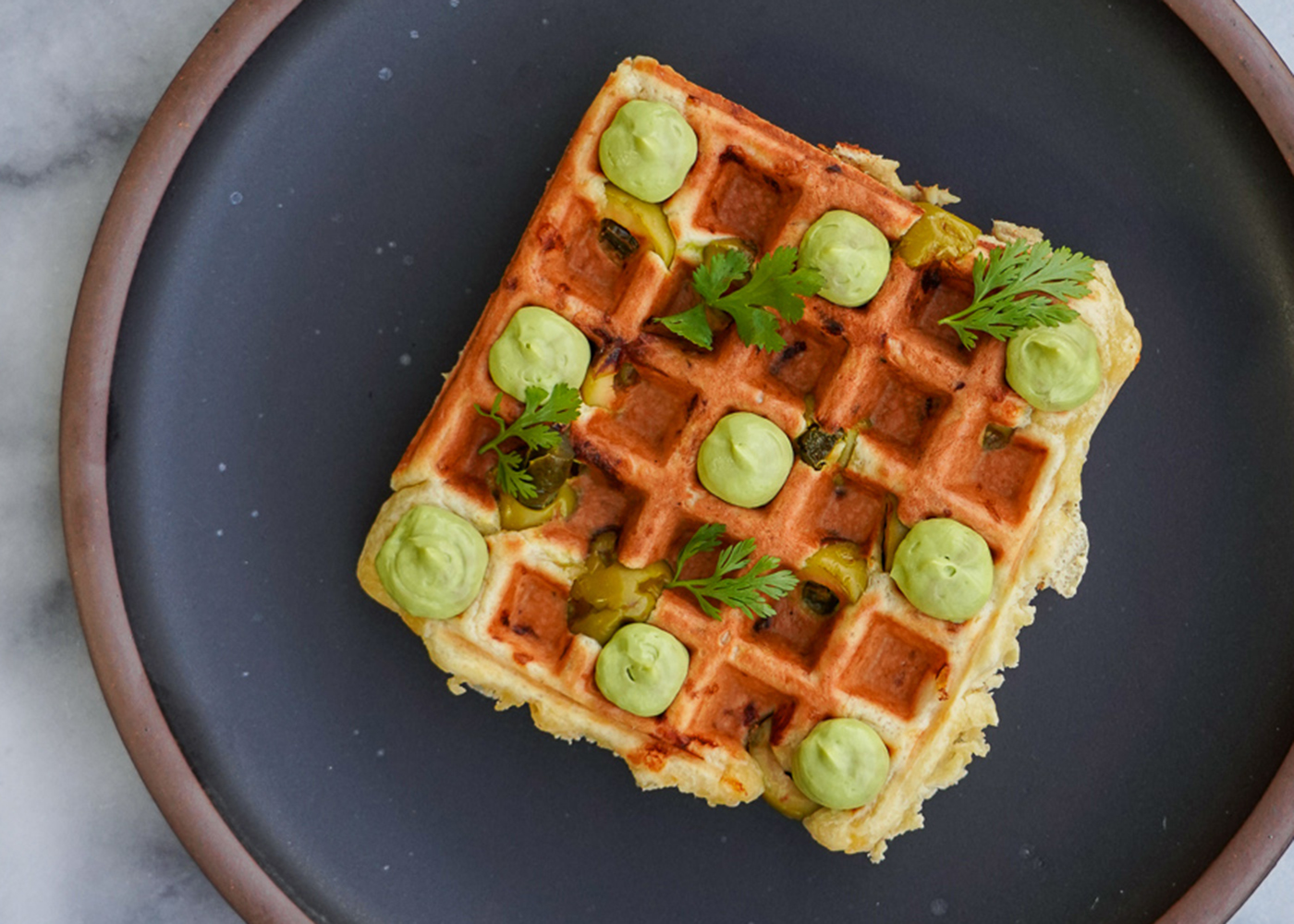 Jalapeño & Cheese Olive Stuffed Waffle
| | |
| --- | --- |
| Prep Time: 20 min | Cook Time: 10 min |
| Servings: 4 | Skill Level: medium |
Waffles don't always need to be a sweet treat or enjoyed only for breakfast. They're essentially a quick bread to be loaded with whatever your heart desires. Any of the Pearls Specialties Olives will work well so pick your favorite!
Recipe and image attributed by Chef Joe Sasto
Ingredients
Waffle:
3 eggs
3 cups flour
2 tsp instant yeast
1/4 cup sugar
8 tb melted butter
2 cups milk
1 jar Specialties Jalapeño Stuffed Olives
8oz shredded cheese
Avocado butter:
1 avocado
Brine from the Specialties Jalapeño Stuffed Olives jar
Cooking Instructions
Avocado butter
Scoop out the avocado flesh, slice and place in a bowl.
Drain brine into the bowl and mix to desired consistency
Waffles
Begin by warming the milk to 90F, and allowing the eggs to come to room temperature.
Once the milk is warm, combine with the instant yeast and sugar – whisk together and set aside to bloom for 5-10 minutes while you gather the remaining ingredients.
In a large bowl, sift together remaining dry ingredients.
In a small bowl, whisk together eggs, melted butter, and yeasty milk mixture.
Slowly fold together the wet ingredients into the bowl of dry ingredients.
Add the shredded cheese or additional mix-ins and fold to combine.
Cover your batter and set aside at room temperature for 1.5 hour to proof .
Add the batter to a preheated hot waffle iron or griddle and top with Pearls Specialities Jalapeño Stuffed Olives.
Cook the waffles until golden brown and fluffy.
Top with the avocado "butter" and fresh cilantro. Enjoy!