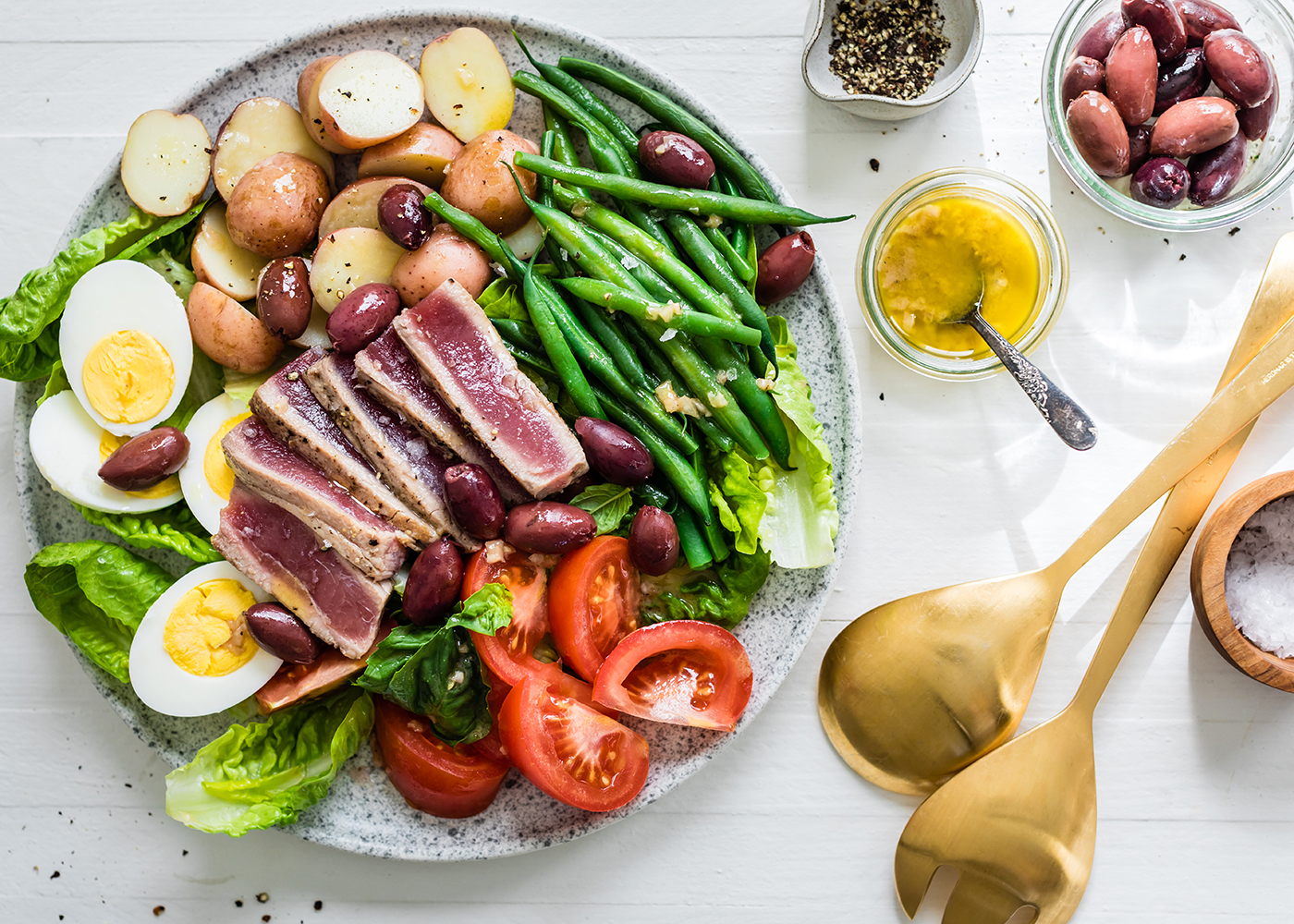 Salad with Seared Tuna
| | |
| --- | --- |
| Prep Time: 25 min | Cook Time: 20 min |
| Servings: 2 | Skill Level: medium |
A great alternative to Nicoise salad, this perfectly seared tuna in a bed of greens goes perfectly with a delectable vinaigrette.
Ingredients
For the Dressing:
1 teaspoon Dijon mustard
2 teaspoons minced shallot
½ teaspoon salt
¼ teaspoon pepper
1 tablespoon red wine vinegar
3 tablespoons olive oil
For the Salad:
8 small red potatoes, scrubbed and halved
Salt as needed
3 large eggs
¼ pound green beans, trimmed
½ pound fresh ahi tuna
Salt and pepper
2 teaspoons neutral vegetable oil
1 large ripe tomato, cut into wedges
Handful basil leaves, torn if large
3 small heads little gem lettuce, or 12 large lettuce leaves such as butter or romaine, washed and dried
½ cup Pearls Specialties Pitted Kalamata Olives
Cooking Instructions
To make the dressing, whisk together the mustard, shallot, salt, pepper, vinegar, and olive oil to combine.
Place the potatoes in a small pan and cover with 2 inches of water and 1 teaspoon salt. Bring to a boil, and simmer until the potatoes are tender but still holding a shape, about 10 minutes. Drain and let cool.
Place the eggs in a small pan and cover with 2 inches of water. Bring to a rolling boil, then remove from the heat and let sit 4 minutes (for a soft yolk) or 10 minutes (for hard-boiled). Drain, cover in ice water to cool, then peel and slice in half.
Bring a medium pan of water to a boil. Add the green beans and cook until bright green and crisp-tender, 30-60 seconds. Drain and plunge into an ice water bath to stop the cooking.
Season the tuna all over with salt and pepper. Heat the oil in skillet over medium heat and when it shimmers, add the tuna. Sear the tuna on all sides until golden on the outside but still rare in the center, 1-3 minutes per side.
Toss the lettuce leaves with enough of the dressing to coat it lightly. Arrange the lettuce, potatoes, eggs, green beans, tomatoes, basil, and olives on a large platter and drizzle with the remaining dressing. Serve.