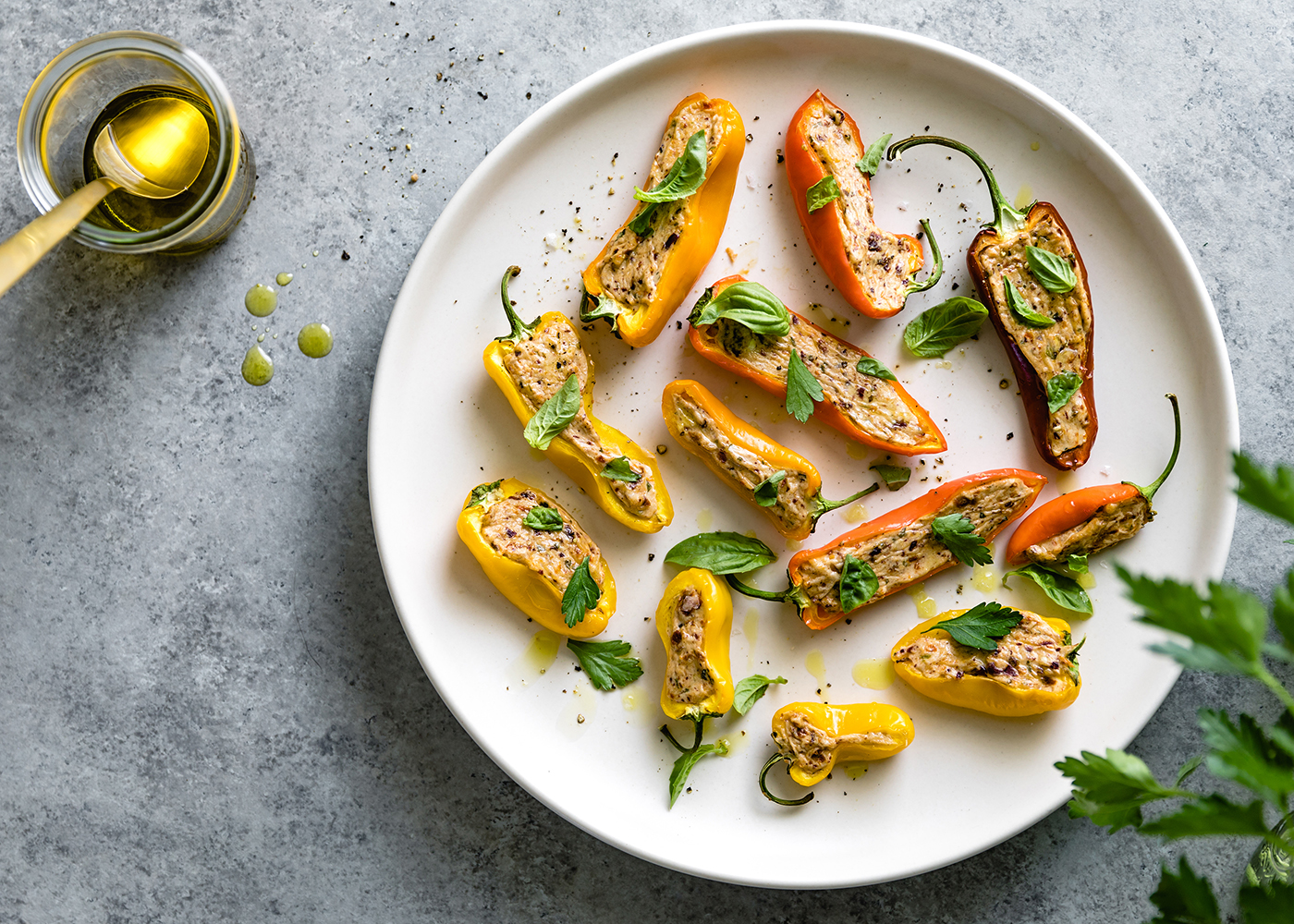 Stuffed Mini Peppers
| | |
| --- | --- |
| Prep Time: 10 min | Cook Time: 20 min |
| Servings: 10 | Skill Level: easy |
This easy, colorful vegetarian appetizer packed with the flavors of the Mediterranean will please every crowd.
Ingredients
2 pints mini peppers, halved lengthwise, seeds removed
8 ounces cream cheese, slightly softened
1/4 cup drained and chopped oil-packed sun-dried tomatoes
2 ounces (1/3 cup) feta, crumbled
1/4 cup drained and chopped Pearls Specialties Sliced Kalamata Greek Olives
2 tablespoons packed chopped fresh basil
For finishing: Extra-virgin olive oil, flaky salt, black pepper, fresh basil and/or parsley leaves
Cooking Instructions
Position a rack in the oven and preheat to 400 degrees. Line a rimmed baking sheet with parchment paper.
Slice the mini peppers in half lengthwise and remove the seeds and ribs. Place the peppers on the sheet pan open side up.
In a food processor, combine the cream cheese, sun-dried tomatoes, feta, basil, and olives, and blend until fairly smooth.
Fill the peppers with the cream cheese mixture and bake until the peppers are tender and the cheese is softly puffed and slightly golden, 8-10 minutes.
Place the peppers on a serving platter and sprinkle with the olive oil, salt, pepper, and herbs.
Serve warm.